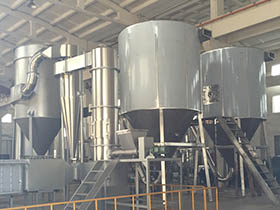 We have develop the new special spray dryer for drying the traditional herbal extract.
Description 
The machine adopts full sealing for it. All parts are made of stainless steel. It is equipped with three grades of filter. The filtered air is one hundred thousand grades. The cooling device of wall is installed at the cylinder body. It makes the wall temperature less than 80℃。Air sweeping device is installed inside the drying tower. The product will not be burnt or deteriorated even stays on the way. The collection rate of powder is raised greatly. Moreover will not cause medicine mixed or wall stick.
Principle
Basic Principle: high-speed centrifuge atomizing for the extract of traditional Chinese medicine is an application of centrifuge atomizing technique. It is an high-speed atomizing dryer. The following problems are solved.
1. Raw material is stick to the wall and the rate of powder collecting is low.
2. Because the staying time of raw material at wall is long, the phenomenon of burnt and degeneration can be produced.
3. It is difficult to clean and can not meet the requirement of GMP
4.Low in output: Model LPG-150 atomizing centrifuge dryer can process 50-60kg/h of raw material liquid. In view of this, according to the properties and process requirements of the extract of traditional Chinese medicine, our factory researched and designed the special dryer for the extract of traditional Chinese medicine and won items of china patent. It solves the historical difficult problems in drying the extract of traditional Chinese medicine. The color of dried raw material is good. The dried raw material does not degenerate. It raises the economic benefit greatly.
Features
Compared to ordinary LPG high-speed atomizing dryer, it has the following features
(1).Adopted three-grade air filter, the inlet air is one hundred thousand grade.
(2).Adopted wall cooling device, the temperature of inner wall will be on more than 80℃.Even if raw material is stayed on the wall, it will not be burnt
(3).Its whole volume is 3.5 times of standard LPG high-speed atomizing dryer.
(4).Adopted quick washing device, it is can meet the requirements of production for varieties if products.
(5).Adopted wet-dedusting,there is no powder dust out. It is in conformity with the requirements of GMP.
(6).Adopted air sweeping device ,the clean effect is satisfied.
(7).Equipped with two sets of atomizer and adopted frequency inverter control.
(8).Adopted PLC control and display, and adapted frequency control.
(9).Equipped with washing device on request.
(10).Adopted the seal transport by dry air on request.