Operating principle:
This equipment is a vacuum chamber where a material conveying guide belt(Teflon PTFE) is fixed in it.Materials are distributed continuously on the guide belt after they pass through the vacuum continuous distributor on the top of the equipment. Based on material propertise,the material distribution thickness is adjustable (3mm~30mm).The guide belt  keeps conveying slowly to the other end,with the heating zone under it to provide drying heat for the belt,so the materials on the belt evaporate water during convoying constantly and the vapor is quickly removed by vacuum. The materials will automatically fall on the secondlayer guide belt when they reach the end of the equipment,and they will repeat the operation again and again until they meet the drying requirements. Multilayered structure can be designed according to materical process requirements. With(40.C_180.C) temperature for each layer and adjustable running speed, this equipment is suitable for drying curve required by all kinds of materials and realizes mild drying. Finally the mater ials fall into the conveying chute at the discharging end,conveyed to the exit hole by the screw conveyor,and then delivered to the material_receiving barrel after grinding and sieving by the pulverator with adjustable mesh (20_200). The drying is finished after continuous discharging.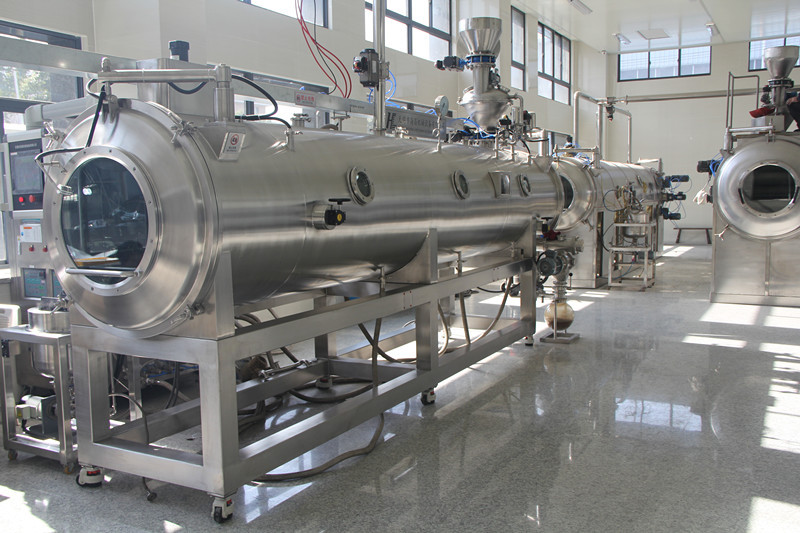 Features:
1.It meets the GMP hygienic requirements to realize drying by finishing continuous charging,continuous discharging and grinding under vacuum condition;
2.It can realize controllable drying temperature(40℃-80℃) ,unchanged thermal sensitivity of materials,recoverability of 95%solvent as to solvent materials and vacuum drying of oxidizing materials without oxidation;
3.It can finish drying,grinding,and granulating under vacuum condition;
4.Continuous discharging starts after 20–60minutes,with product yield up to 99%;
5.Highly sticky materials will not stick to the belt(which is Teflon PTFE),and crystal materials will not damage the crystal form after drying;
6.The moisture content of the dried product can optimize such major parameters as temperature,vacuum degree and speed of the drying process,enabling the utilization of the equipment to achieve the best economic benefit;
7.It adopts PLC automatic programming control system to realize high-degree automation and greatly reduce labor operating costs;
8.Its operating cost is only one third of or even lower than of its similar drying equipment;
9.CIP automatic online cleaning system with various cleaning methods can clean the equipment completely and quickly after drying and meet the GMP requirements;
10.It is suitable for large-scale,continuous and automatic operation.