Working principle of CT-C series industrial hot air tray dryer:
CT-C series industrial hot air tray dryer is a widely used convection chamber dryer. Inside the drying chamber trays loaded with wet material are placed on top of each other in trolleys.
In drying process, the fresh cold air is sucked into the drying chamber by the circulation fan and flow through the inner placed steam radiator (or electrical heating tubes) in the air channel to get required temperature.  With the help of air distributor, the hot air evenly flow through each layer of trays for heat transfer and carry away the evaporated moisture. Most of the damp air flows back to the circulation fan for the next drying  circulation while part of the damp air will be exhausted for energy saving.
After drying, open the chamber door and pull out the trolleys for discharging. The following drawing will show you how it works.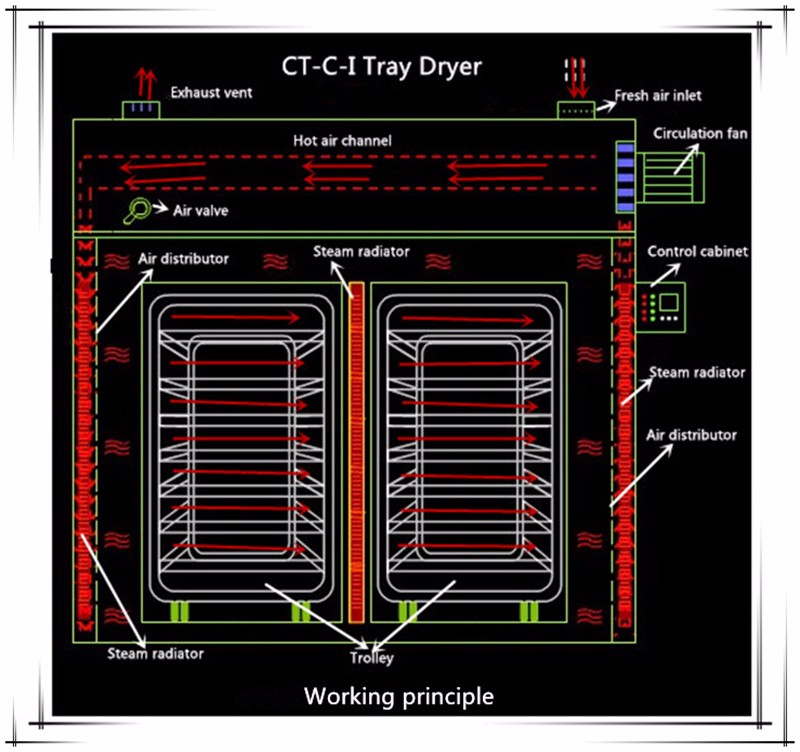 Applications of CT-C series industrial hot air tray dryer:
1. For drying powder, granule and sliced products in Food, Chemical and Pharmaceutical industry;
2. Drying temperature: RT-350 degree C (adjustable)
3. Drying capacity: 60-480 kg/batch
4. GMP design
5. Heat supply can be steam, electricity, hot water, hot oil and oil/gas fired hot air generator.